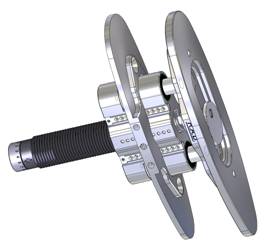 ---
Recoil Absorbtion Devices
Welcome to Hart Systems designers and manufactures of professional shooting equipment.
At Hart Systems we strive to provide shooters with the best equipment and service that todays technology has to provide.
In 1996 we set out to develop a recoil reduction system that would considerably reduce the amount of felt recoil and operate smoothly with an integrated adjustable pad dropped to its lowest setting. We accomplished this with what is today our R.A.D. System #1.
R.A.D. stands for Recoil Absorption Device. This device uses hydraulic fluid to reduce the kinetic energy produced by the firing of a shotgun or rifle. This is superior to other methods that use springs to store the energy during the motion of the gun during recoil. The stored potential energy in the spring will then be transferred back to the shooter at the end of the recoil motion. By using the hydraulic fluid to dampen recoil the kinetic energy is dissipated during the motion of the gun during recoil. This allows the motion of the gun to achieve controlled linear deceleration with a minimum reaction force.
At Hart Systems we enjoy helping shooters become more competitive. With our design capabilities the options are endless for the development of custom shooting equipment. So feel free to contact us at the address below to discuss your needs.
---
To find a dealer near you contact dave@hartshooting.com
Hart Systems, L.L.C.
502 N. 9th Street
Lancaster, MO 63548
(660) 279-0055
Questions or comments can be emailed to dave@hartshooting.com